Hellfrost
Elemental
Back to Bestiary | Back to Al-Shirkuh Bestiary| Back to Lesser Jinni
Elementals inhabit the core elemental realms, those of air, earth, fire, and water, and the ever-shifting borders between them. Coldfire and ice elementals, supposedly from an elemental realm of ice, are presented here, despite elementalist scholars still debating whether they belong under the category of border elementals or core elementals.
Although intelligent and capable of understanding any spoken language, elementals never speak to mortals. Even the greatest arkhwisards have long given up trying to communicate with these strange creatures.
Although coldfire, ice, and slush elementals are well known to hrimwisards and clerics of Thrym, there are many other frozen variants lurking beyond the veil of mortal ken. Knowledge of how to summon these unusual elementals should not be given to just anyone with the appropriate summon elemental spell automatically. Instead, the knowledge should be gained through an adventure. No new spell is required—the hero simply learns of the existence of other elementals, allowing him to use his existing summon elemental power in new ways. Wild Card elementals, such as ice shell variants, can be summoned using the summon elemental spell only if the caster is Heroic Rank and takes a –4 penalty to his arcane skill roll. Since villains have no Ranks, they may summon them at the GM's discretion. At the GM's option, any other type of elemental can be summoned as a Wild Card variant if the caster meets the above requirements.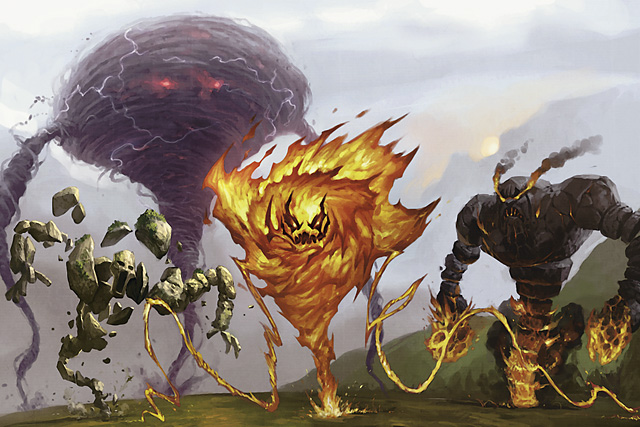 Back to Bestiary | Back to Al-Shirkuh Bestiary| Back to Lesser Jinni